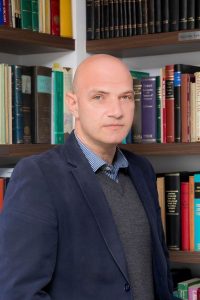 Dr. Pavlos Neofytou Kourtellos
Dr. Kourtellos has extensive experience on civil and commercial litigation before the District Courts and the Supreme Court of Cyprus with a particular emphasis on commercial, corporate and shareholders' disputes, fraud and conspiracy issues. He has a broad commercial background and he is also engaged in advising on issues related on Cyprus International Trusts and Investment Services.
He has also handled numerous cases in relation to administrative acts concerning matters of administrative, tax and constitutional law and he has been consulted to give opinions on different aspects of Cyprus law, especially with respect to cases involving complex multi-jurisdictional issues, arbitration law and has been engaged in a number of high profile cases.
Professional Background
Prior to establishing P. N. Kourtellos & Associates LLC, Dr. Kourtellos worked as an associate lawyer in Andreas Neocleous & Co, from 1999 till 2004, he later joined Patrikios Pavlou & Associates LLC where he became corporate litigation partner till 2011.
Dr. Kourtellos in addition to maintaining his own law practice is also an Associate Lecturer at the University of Cyprus (Department of Law) teaching Equity & Trusts, Philosophy of Law and Legal Method.
Dr. Kourtellos' academic interest focuses mainly on issues of Philosophy & History of the Law, Legal & Political Theory, International Conflicts & Theory of War, Ethics (axiology) and Law.
Qualifications
Law Degree (Athens University, Greece)
LLM Commercial & Corporate Law (Queen Mary University of London, UK).
PhD Philosophy (Athens University, Greece).
Admitted to the Cyprus Bar, 2000.
Practice Areas
Corporate & Civil Litigation
Arbitration & Alternative Dispute resolution
Corporate Finance & Commercial Law
International Trade Law
International Trust Law
Competition Law
Intellectual Property Law & Trade Marks
IT Law
Public & Administrative Law
European Union Law
Publications
Co-Author of "Introduction to Cyprus Law" (Chapter 2: "Constitutional Law") published by Yorkhill Law Publishing under the auspices of the Center for International Legal Studies Salzburg, Austria, 2000
"Extending the reach of Mareva Injuction. The Worldwide effect", Cyprus & European Law Review, February 2008
Co-Author of the Cyprus Chapter on "Product Liability" 2008 edited by the Global Legal Group
"Public Offers and Insider Dealing Publicity Guidelines", Jan 2008
"Introduction of the European Markets in Financial Instruments Directive (MiFID) into the Cyprus legislation", March 2008
"The Implications of the Third Money Laundering Directive, The Cyprus Perspective", June 2008
Co-Author of the Cyprus Chapter on the "Comparative Study on the Situation in the 27 Member States as regards the law applicable to non-contractual obligations arising out of violations of privacy and rights relating to personality", in association with the University of the Basque County prepared for the European Commission, November 2009
"The adoption of MiFID in Cyprus", March 2011.
Co-Author of the Cyprus Chapter on "Product Liability" 2011 edited by the Global Legal Group.
Memberships
Cyprus Bar Association
Society of Trust and Estate Practitioners (STEP)
International Bar Association (IBA)
International Law Association (Greek Branch)
Languages
Greek (mother tongue) and English (fluent).
Email: pnk@kourtelaw.com