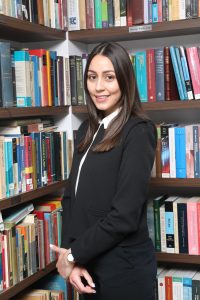 Ms. Maria-Myrto Koustae
Maria – Myrto has obtained her Law Degree from the Aristotle University of Thessaloniki in June 2016.
In September 2016, she joined our firm for her legal practice as a trainee lawyer. Following the successful completion of her legal training, she was called to the Cyprus Bar in 2017.
Maria – Myrto then continued her studies in the UK, where she obtained her LLM in Commercial and Corporate Law, in September 2018. Her LLM thesis was focused on Arbitration law.
After her relocation in Cyprus, she re-joined our firm as an Advocate – Legal Consultant. Her practice areas include corporate and commercial law with particular emphasis in commercial and corporate litigation, banking law, company law and general civil law.
Qualifications
Law Degree (Aristotle University of Thessaloniki), 2012-2016
LLM in Commercial and Corporate Law (Queen Mary University of London), 2017-2018
Practice Areas
Commercial and Corporate Litigation
Banking Law
Company Law
General Civil Law
Memberships
Cyprus Bar Association, 2017
Languages
Greek (mother tongue), English (fluent)
Email: mmk@kourtelaw.com